About Colleen Robinson
Colleen Robinson doesn't shy away from any issue or challenge. When you witness her persistence and tenacity, you'll easily understand why she was destined for exactly the path she followed. Her college degree is in nursing, but her passion is in sales, which is why she spent the early years of her career bouncing back and forth between the two. An unlikely combination, these two vocations have made her both compassionate and tough, qualities which are perfectly suited for the real estate profession.
Her specialty is guiding open-minded customers through the technical and real life aspects of real estate. She realizes that buying or selling a home can be a life changing transition which requires thoughtful patience and expertise. That's why so many of her customers know that they can 'Count on Colleen' to guide them with both compassion and authority.
"There are many qualities and skills that go into being an excellent real estate professional - integrity, in-depth community and market knowledge, marketing savvy, effective negotiation skills and a high-quality professional network, all of which are hallmarks of how I work."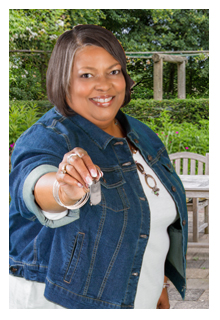 Colleen's love of sales once made for an interesting stand-off with her Dad. At the time, she was working in a nursing home, and decided she'd like to try her hand at sales. She convinced her Dad to let her work at a dealership that he owned in Springfield, Illinois and she took a six month leave from nursing to give it a shot. After those months at the dealership, and with absolutely no leads, help or encouragement from her Dad, she outsold every person on the floor. When she announced that she had decided to pursue a long term career in car sales, her Dad shot down the idea and suggested she return to nursing. It was then that Colleen uttered these words, "If I can't sell here, I'll go across the street". Let's just say that her Dad learned how strong his daughter was that day. Soon after, she was approached by Ford to open her own dealership, which she operated for several years in southern Illinois.
In 2003, her husband mentioned real estate as a viable option, and she accepted that challenge, too. That's when everything fell into place. Since that time she has worked almost every type of real estate transaction, from condos to equestrian farms to single family homes. She has also received numerous awards of achievement and distinction from the Ohio Association of Realtors®. However, when asked about these prestigious awards, she states, "I value my happy customers more than any plaque on the wall".
Today, Colleen lives in Findlay, Ohio. She makes frequent trips to Illinois and Iowa to spend time with her Mom and daughter. When she isn't diligently searching for the perfect home for her clients, she's advising them about the best choices for a daycare, salon, housekeeper, landscaper, church and more. Looks like you can Count on Colleen for more than just real estate.
---
Ready to buy or sell a home in the following areas? Contact Colleen

Findlay, Arlington, Arcadia, Bloomdale, Carey, Fostoria, McComb, Mt Blanchard, North Baltimore,VanBuren, Vanlue.
---
"Thank you so
much for all your work and expertise in marketing and selling our home. It was a real pleasure to deal with someone in whom we had so much confidence."
See more testimonials
.